Cedars-Sinai Medical Center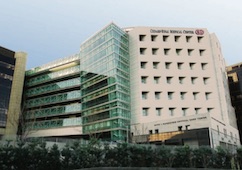 Cedar-Sinai Medical Center
8700 Beverly Blvd
Los Angeles, CA 90048
United States
Google Map
Website
Cedars-Sinai is a nonprofit academic healthcare organization serving the diverse Los Angeles community and beyond. With pioneering medical research achievements, education programs defining the future of healthcare, and wide-ranging community benefit activities, we're setting new standards for quality and innovation in patient care.
It began in 1902 as a 12-bed hospital in the Angelino Heights neighborhood of Los Angeles. Today, Cedars-Sinai serves more than 1 million people each year in over 40 locations, with more than 4,500 physicians and nurses and 1,500 research projects in motion. What never changes is our commitment to be a blessing for those in need.
Research
Cedars-Sinai is a hub for biomedical research and a training center for future physicians and other healthcare professionals. This attracts exceptional talent to Cedars-Sinai, including world-renowned physician-scientists who seek a place where they can both conduct research and see patients--the ideal formula for discovery and its translation into cures. Our researchers have an ideal community in which to study the impact of healthcare challenges, and reflect that knowledge in their research./p>
Cedars-Sinai scientists conduct research related to cancer, cardiology, diabetes and obesity, digestive diseases, endocrinology, genetics and genomics, imaging immunology and infectious diseases, neuroscience, regenerative medicine and women's health, among others.