Michigan State University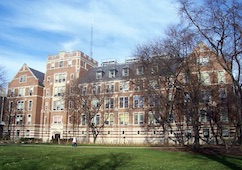 Michigan State University
426 Auditorium Road
East Lansing, MI 48823
United States
Google Map
Website
A top global university, MSU pushes the boundaries of discovery to make a better world while providing students with life-changing opportunities.
Research
Michigan State University conducts world-class research and creative activity, ranking as one of the top 100 research universities in the world. MSU research excellence has been recognized through institutional membership in the American Association of Universities (AAU) since 1961.
The university attracts and welcomes an international community of outstanding graduate students, postdoctoral associates, and faculty visitors to a broad range of highly ranked graduate programs, research centers, and interdisciplinary collaborations.
As the nation's pioneer land-grant institution, MSU serves the people of Michigan, the United States, and the world, creating and applying knowledge to develop sustainable solutions to humanity's most challenging problems. Beyond their intrinsic impact, research and creative activity contribute to every aspect of the university's activities, serving as a scholarly foundation for exceptional education, outreach to the public, cooperation with business and government, and patient care. This website shows the range and scope of research and creative activity at MSU.