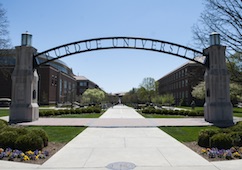 Purdue University
610 Purdue Mall
West Lafayette, IN 47907
United States
Google Map
Website
Purdue University is a world-renowned, public research university that advances discoveries in science, technology, engineering and math.
Research
Purdue's research and partnerships enterprise is dedicated to expanding research support from federal and state agencies, and diversifying the sources of support through collaboration with institutional and corporate partners worldwide.
Purdue has 139 university-approved centers and institutes, each developed to fill a particular need. Several large-scale interdisciplinary research centers are located in Purdue's Discovery Park. The facilities in Discovery Park are an extension of the campus research infrastructure allowing multidisciplinary groups from across campus to come together and address grand challenges and opportunities. Specialized instrumentation, equipment and facilities make up Purdue University's research cores and are available for use by faculty and partner researchers. Research core professionals also offer assistance to users with equipment, analysis and interpretation of data.