Beth Israel Deaconess Medical Center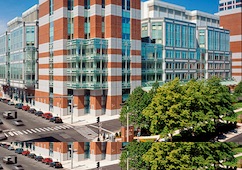 Beth Israel Deaconess Medical Center
330 Brookline Ave
Boston, MA 02215
United States
Google Map
Website
Beth Israel Deaconess Medical Center (BIDMC) is a world-class teaching hospital of Harvard Medical School located in the heart of Boston.
We are passionate about caring for our patients like they are family, finding new cures, using the finest and the latest technologies, and teaching and inspiring caregivers of tomorrow. We put people at the center of everything we do, because we believe in medicine that puts people first.
Research
Biomedical research has traditionally been organized by distinct, departmental specialties, but with the tremendous scientific opportunities that have emerged in recent decades, it has become apparent that research can also benefit from cross-specialty collaboration, an interdisciplinary approach that encourages communication and promotes creative, non-traditional approaches in the pursuit of scientific discovery.
At BIDMC, the creation of our key Research Centers has brought together investigators from across a wide range of disciplines to work together on innovative investigations that encompass basic, translational and clinical research.