Brigham and Women's Hospital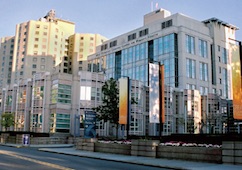 Brigham and Women's Hospital
75 Francis Street
Boston, MA 02115
United States
Google Map
Website
Brigham and Women's Hospital is dedicated to high-quality care and the education and training of the next generation of medical professionals. We are committed to working with colleagues to access services for patients and their own professional education.
Research
At Brigham Research Institute at Brigham and Women's Hospital (BWH), we bring individuals together across departments, who would not have been connected otherwise, such as researchers and physicians in a wide variety of disciplines. Our culture, which involves a large exchange of information within the hospital, has created a collaborative and innovative environment for our researchers and community at BWH.
In order to effectively connect people, the BRI contains 10 research-focused centers that are open to any researcher in this area looking to form collaborations and develop their work through seminar, symposia, funding-opportunities and other resources. The incredible scientific research happening at BWH on a daily basis creates a unique and powerful collaboration among researchers and clinicians.