Massachusetts General Hospital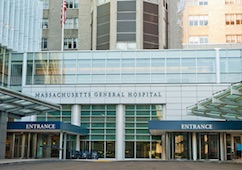 Massachusetts General Hospital
55 Fruit Street
Boston, MA 02114
United States
Google Map
Website
Massachusetts General Hospital was established to provide care to Boston's sick, regardless of socioeconomic status—an innovative idea in 1811. In the words of our founder, John Warren, MD, "When in distress, every man becomes our neighbor." We subsequently became the first teaching hospital for Harvard University's new medical school and have been redefining excellence in healthcare ever since. We have remained at the forefront of medicine by fostering a culture of collaboration, pushing the boundaries of medical research, educating the brightest medical minds and maintaining an unwavering commitment to the diverse community we were created to serve.
Research
Mass General has the largest hospital-based research program in the United States. The brightest minds in medicine collaborate on behalf of our patients to bridge innovative science with state-of-the-art clinical medicine. With an annual research budget of more than $912 million, our research program spans more than 30 clinical departments and centers across the hospital. Approximately 1,200 clinical trials are taking place at Mass General at any given time. Our research drives discoveries and breakthroughs in basic and clinical research, which translate into new and better treatments for our patients locally and around the globe.
The Mass General Research Institute is built on a culture of excellence, compassion and groundbreaking scientific achievement. Our researchers work side-by-side with physicians—in the lab, in the clinic and at the bedside—harnessing the latest technological advancements to foster discovery at every stage.
Among the medical and scientific "firsts" at Mass General are the first demonstration of ether as a general anesthetic, the first x-ray exposure produced in a hospital, the first antiseptic operating suite in the U.S., and the invention of MRI and fMRI imaging technologies.