North Carolina Agricultural and Technical State University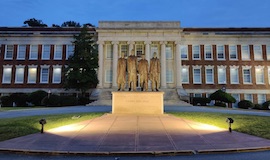 North Carolina Agricultural and Technical State University
1601 E Market St
Greensboro, NC 27411
United States
Google Map
Website
The Division of Research and Economic Development (or DORED) manages North Carolina A&T's research enterprise, which is among the top three in the 17-campus University of North Carolina System.
Our work extends beyond our traditional disciplines of engineering and agriculture into such areas as biomedical research, leadership development, social and behavioral sciences, health disparities, evolutionary biology and computational science, to name a few.
Research
North Carolina A&T's commitment to research in the life sciences holds special promise not only for the important questions our faculty and students seek to answer, but for students who plan careers in biology, bioengineering, pharmacology, medicine and numerous related areas.
Our work in this area spans a wide range of subjects and interests, making the life sciences one of the richest, most diverse and promising areas of research and educational focus at N.C. A&T.