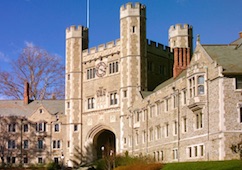 Princeton University
Princeton, NJ 08544
United States
Google Map
Website
Princeton University is a vibrant community of scholarship and learning that stands in the nation's service and the service of humanity. Through teaching and research, we educate people who will contribute to society and develop knowledge that will make a difference in the world.
Research
Princeton researchers collaborate across academic fields and across the globe. The campus is home to numerous interdisciplinary research collaborations and centers.
The interdisciplinary approach to teaching and research is prevalent throughout the University, mixing scientists and humanists, engineers and social scientists in a variety of ways to enhance discovery and better serve humanity.