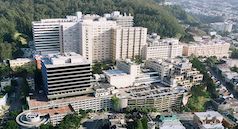 UCSF Diabetes Research Center
513 Parnassus Avenue
San Francisco, CA 94143-0511
United States
Google Map
DRC Website
The University of California San Francisco Diabetes Research Center (UCSF DRC) is one of only 16 research centers established by the National Institute of Diabetes and Digestive and Kidney Diseases (NIDDK) to accelerate basic and clinical research into diabetes. The DRCs are intended to create localized centers of excellence that improve the quality and multidisciplinary nature of research on diabetes in the United States.
The UCSF DRC is a highly integrative program at UCSF, representing both basic research and clinical departments -- integrates more than 60 diabetes-oriented investigators. The center's research components include:
To facilitate research and inter-disciplinary investigations by UCSF DRC scientists, the center supports four bio-medical research core facilities:
The UCSF DRC supports a Pilot and Feasibility grant program that aims to promote new investigators in diabetes and to encourage new initiatives in diabetes research.
The center also supports an Enrichment Program, which organizes diabetes-oriented educational activities, such as the Diabetes Center Seminars, Endocrine Grand Rounds, the UCSF Diabetes Center retreat, the UCSF Diabetes Center visiting professor and an annual post-graduate CME diabetes course.