Christopher B Newgard PhD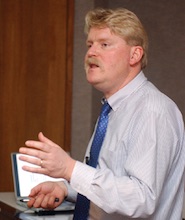 Christopher B Newgard PhD
North Carolina
Co-Director Metabolomics Core
Faculty Profile/Lab Website

Christopher B. Newgard, PhD, is Founding Director of the Duke Molecular Physiology Institute. He is also the Director of the Sarah W. Stedman Nutrition and Metabolism Center and the W. David and Sarah W. Stedman Distinguished Professor, with faculty appointments in the Pharmacology and Cancer Biology and Medicine Departments.
Prior to coming to Duke in 2002, Dr. Newgard was the Gifford O. Touchstone Jr. and Randolph G. Touchstone Distinguished Professor, Department of Biochemistry, and Co-Director of the Touchstone Center for Diabetes Research, University of Texas Southwestern Medical Center, Dallas. Dr. Newgard's research focuses on application of an interdisciplinary approach to gain mechanistic understanding of complex cardiometabolic diseases. This interdisciplinary approach includes gene discovery, metabolic engineering, and comprehensive tools of metabolic analysis ("metabolomics") such as mass spectrometry-based metabolic profiling.
Over its 16 year history, our laboratory has investigated mechanisms of metabolic regulation and fuel homeostasis in mammalian systems. Major projects include:
Mechanisms involved in regulation of insulin secretion from pancreatic islet β-cells by glucose and other metabolic fuels;
Development of methods for protection of β-cells against immune-mediated damage;
Studies on spatial organization and regulation of systems controlling hepatic glucose balance;
Studies on the mechanisms involved in lipid-induced impairment of insulin secretion and action in diabetes.