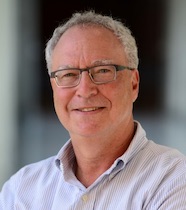 University of Pennsylvania
Faculty Profile/Lab Website

Dr. Mitchell Lazar is the Willard and Rhoda Ware Professor in Diabetes and Metabolic Diseases at the University of Pennsylvania. He received his undergraduate degree in Chemistry from the Massachusetts Institute of Technology, then received a PhD in Neurosciences and an MD from Stanford University. He trained in Internal Medicine at Brigham and Women's Hospital and in Endocrinology at the Massachusetts General Hospital before joining the University of Pennsylvania faculty in 1989. He served as Chief of the Division of Endocrinology, Diabetes, and Metabolism from 1996-2019, and is currently the Founding Director of the Institute for Diabetes, Obesity, and Metabolism.
Lazar has made fundamental contributions to the fields of nuclear receptors and the transcriptional regulation of metabolism, including the discovery of the circadian nuclear receptor REV-ERBα, as well as its ligand and repression mechanisms. Dr. Lazar also discovered the fat-specific expression of another nuclear receptor, PPARγ, and pioneered the linkage of PPARγ to adipocyte biology and type 2 diabetes. This work also led to the discovery of resistin as a novel adipocyte hormone that impairs insulin action and the founding member of a previously unknown family of secreted proteins. His more recent work has pioneered a systems approach to physiology that combines genetic and environmental manipulations with functional genomics and metabolic phenotyping, leading to new concepts bridging the epigenome, circadian rhythms, and metabolic diseases including diabetes and obesity.
Dr. Lazar has given named lectures throughout the world, and has served as a member of the Council of the NIDDK as well as many editorial and scientific advisory boards. He has been elected to the American Society for Clinical Investigation, where he also served on the Council, and the Association of American Physicians (AAP), and served as AAP President from 2020-2021. He has also received the Van Meter Award of the American Thyroid Association, multiple awards from The Endocrine Society, the Stanley Korsmeyer Award from the ASCI, the Luft Medal from the Karolinska Institute, and the Harrison Medal from the Endocrine Society of Australia. Dr. Lazar is also an elected member of the National Academy of Medicine, the American Academy of Arts and Sciences, and the National Academy of Sciences.